Hello and welcome to Making It As a Middle School Teacher! Thank you so much for taking time to stop by today! Please take a moment to follow my blog and check out my Facebook, Twitter, and Pinterest pages.
My name is Michelle Lundy.
I have a B.S. in Middle Grades Education with concentrations in Math and Science; however, I'm certified to teach all content areas in Grades 4 - 8. I've been teaching for six years. Five of those years have been in Math - one in 8th Grade and four in 7th Grade. I also taught a half-year of Math Connections to Grades 6 - 8 and 1 year of 7th Grade Life Science. Each person on my team teaches 1 class of Social Studies as well.
As you can see, I've taught a little of everything. Hence the broad nature of my blog. I feel as though I have much to share with you in many areas of Middle Grades Education, and I look forward to doing just that!
I live in beautiful, sunny Georgia. I'm married to my high school sweetheart and we have three sons. Two are in college majoring in Biology and Music. Our youngest is a Senior in high school. We have four dogs, a cat, a chinchilla, and, of course, my classroom pet turtle, Skilpad. Three nieces and two nephews share my heart as well.
If you need to
contact me
, you may do so in one of two ways.
E-mail
me at michelle@makingitteacher.com.
Or you can simply fill out the
Contact Form
below.
Either way, I welcome your questions and comments, and I will get back to you as soon as possible.
I look forward to hearing from you!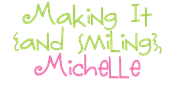 Powered by
"http://www.emailmeform.com/builder/images/footer-logo.png" />
EMF
target="_blank">

Online Form
"_blank">

Report Abuse