Top Teachers' Blog Swap and Hop Day is here!!! I am so excited about this fruit basket turnover that's happening in the teacher blogosphere today! I hope you will take the time to hop around the linky below as we have as worked extra hard creating great posts to swap for this event....most even include a freebie!
I'll be over at Kathie's blog,
The Diary of a Not-So-Wimpy Teacher
, sharing about Teaching Math through Literature. I'd love for you to check it out after you've read these great ideas from my first-ever guest blogger, Katie!
Take it away, Katie...
Hi everyone! My name is Katie and I am guest posting from The Adventures of a 6th Grade Teacher!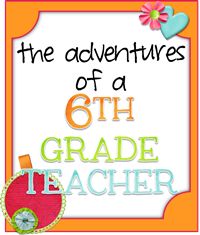 I just finished my first year teaching in May and cannot wait for my 2nd year to start in August! I have known for a long time that I wanted to be a teacher, and after finishing my first year, I know this is exactly what I was put on this planet for! However, I always thought that I would teach 1st or 2nd grade, but obviously you have guessed by now that is not what I teach. I love 6th grade and do not have any plans of leaving it any time soon. :)
This past school year I had one inclusion class which I quickly fell in love with! (I am even more excited because I already know that I will be having two inclusion classes next school year!) One of the things that I worried about from the beginning was making sure that all students remain engaged in the classroom since the learners and levels in it are so varied. I thought since I had some success with it this past school year that I would share my top 3 tips with you all!
One
. Arrange your room to allow students the opportunity to work with partners in various settings. One thing I did was actually label my student desks with a 1, 2, 3, or 4. This made it easy to put students in groups or tell them that the even numbers need to work together at the table, etc. You can see what I am talking about in this picture from August in my classroom.
Two
. Use an appointment book with your students that you create during the first week of school. This is actually a freebie for you too! Visit my
store
to download it for yourself!
What I do is have my students find a partner that will be there appointment for various assignments throughout the school year. All students have to do is simply right down each others name on the corresponding spot on the clock. Once these are all filled out, we glued them into our interactive notebooks and they stay there all school year so we can easily reference them. We did change our appointments at the semester which I think really helped us too.
Three. It is also important to allow opportunities for movement within the classroom to help keep students engaged. In my classroom students are constantly moving and it makes a big difference. They are not asking me to get up out of their seats because they know that they will have several opportunities to move during the class period. The little bit of movement helps all of my students stay in engaged.
I hope you have discovered something that you can use to help keep your students engaged in your classrooms this fall! Be sure you check out all of the other wonderful bloggers who are participating in the Swap and Hop!