Good Sunday morning to you! Can you believe April is almost over already? This year is really flying by!
In this week's edition of Share-A-Blog Sunday, Christi from
Ms. Fultz's Corner
stands tall in the Spotlight!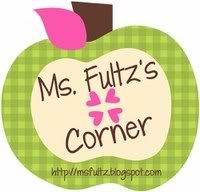 Christi does her blogging from The Buckeye State, Ohio. Anyone else here from Ohio?
Teaching for 7 years, Christi is a 3rd grade teacher...so she teaches all content areas to her students. She has a Master's degree and a Reading Specialist License.
Listing reading and writing as her favorite subjects, Christi also says this about her blog:
"Most of my hits come for reading and writing workshop ideas, though I'm gaining on math too."
I must tell you though, I see some great math and science ideas on
Ms. Fultz's Corner
as well.
This is what Christi shared as one of her favorite teaching moments:
"Working with kids means there's hardly ever a dull moment, as I'm sure you know. I think my favorite was when my students found out I was engaged. One of the boys asked what that meant and another boy piped up instantly with, 'She's having a baby... duh.' So precious! I love all those moments that let me see things from a child's perspective again."
Never a dull moment, indeed! It is so funny to hear some of the things they come up with!
Christi shared 3 things with us to help us know a little more about her:
1. "I admired my third grade teacher so much that she honestly inspired me to grow up and be a third grade teacher too. I think she'd be pretty proud of me and hope I can be the same kind of role model for my students, no matter what they grow up to be."
2. "I am a terrible singer. I can't help it and it's always been that way. I sing loudly at home to my husband's dismay because it brings the joy to my heart. However, I only pretend to sing happy birthday to my students at school. I don't want to harm any of them permanently."
3. "I love to be crafty and find ways to tie art activities into my standards too. I think it increases motivation, effort, and excitement. I recently upgraded my embroidery machine at home and find crafting helps me balance the sometimes stressful job of teaching. I may or may not make dog clothes for our three pups. =)"
Now you know it's time for me to talk about things I've found in common with Christi. As usual, there are quite a few!
My favorite teacher was my 9th grade Geometry teacher, Mrs. Stevens, so I can totally relate to feeling inspired to be what I am today!
I, too, can't carry a tune in a bucket...much to my husband's and sons' chagrin!
Crafting is one of my favorite hobbies and it really does help you relax and focus on something other than the classroom!
If I could sew, I would be making clothes for our 4 dogs, too!
And...we have the same school mascot...Knights!!!
After spending some extra time on
Ms. Fultz's Corner
, I have to say that it was difficult to narrow down my favorite thing.
I love the post
Making Science Fun
...I wish I had been there for that!
I also love the look and feel of her blog. It's very fun and colorful without being hurtful on my old eyes. I really like all the pictures within her posts as it gives you a glimpse into her everyday classroom life.
If you haven't found Christi's blog,
Ms. Fultz's Corner
, I encourage you to head over and check it out!
You know what to do...leave her a comment or two and tell her who sent ya!
Enjoy :)
Making It {and smiling},